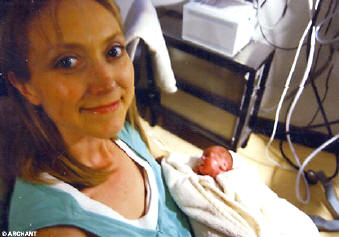 A mother made the ultimate sacrifice by refusing cancer treatment to give birth to a healthy baby boy.
Lorraine Allard was told four months into the pregnancy the devastating news that she was in the advanced stages of cancer.
A further blow came when doctors advised her to terminate her baby, which was 23 weeks old, and start chemotherapy straight away.
Instead, she insisted on waiting long enough to give her unborn son a chance to survive, telling her husband, Martyn: "If I am going to die, my baby is going to live."
Lorraine Allard, 33, (pictured with Liam two weeks after he was born) started a course of chemotherapy almost straight away and was able to cradle him just a handful of times before she died last Friday.
A Caesarian section was scheduled at 26 weeks but Mrs Allard, 33, went into premature labour a week before and Liam was born on November 18.
She then began chemotherapy but passed away on January 18, having left her sickbed a handful of times to cradle her son in her arms beside his incubator.
Yesterday, Mr Allard said: "Lorraine was positive all the way through. She had strength for both of us. I can't begin to describe how brave she was. Towards the end we knew things weren't going well but she was overjoyed that she had given life to Liam."
Mr Allard, 34, an oil field technician from St Olaves, near near Great Yarmouth, Norfolk, and his wife already had three daughters, Leah, ten, Amy, eight, and Courtney, 20 months, when they learned they were expecting their first boy.
"We were going to have the full set and didn't plan to have any more children after that," Mr Allard said. But in October last year, Mrs Allard started getting stomach cramps and tests at James Paget Hospital in Gorleston revealed her liver was riddled with malignant tumours.
It is believed the disease spread from bowel cancer that had been growing unnoticed for years. Mr Allard said: "The doctors said they couldn't do anything because she was pregnant. She told them straight away they were not going to abort her baby. She'd have lost the will to fight."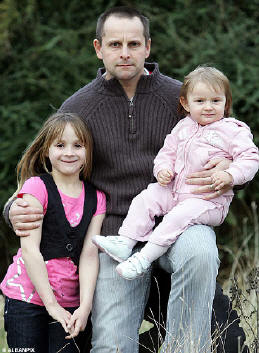 Lorraine's husband Martyn (left) with two of their daughters, Amy, 8, and Courtney, 20 months
His wife went into labour just a couple of weeks after the diagnosis and gave birth at the Norfolk and Norwich University NHS Hospital in Norwich.
"He was so tiny, just 1lb 11oz, so the nurse grabbed him and allowed Lorraine to give him a little kiss before he was taken to an incubator," Mr Allard said.
"She was so emotional. She had been so determined to give him the best chance and was happy that he had been born naturally, which meant she wouldn't have to recover for a couple of weeks after a Caesarian before beginning the chemotherapy."
The course began almost straight away and Mrs Allard spent her time recuperating at home, apart from four visits to her newborn son.
The first time was when he was two weeks old, during which a treasured photo of her cuddling him was taken.
Liam has responded well to his care and it is hoped he will be released from hospital in early March. But his mother's health began to deteriorate just before Christmas and a CT scan on January 17 revealed the tumours were still growing. She died the following day.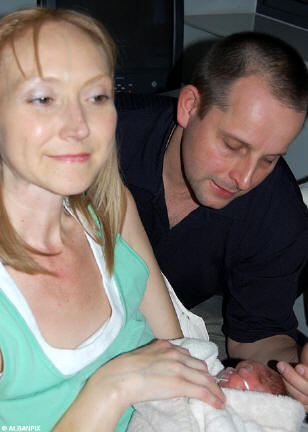 Mr Allard said: "The doctors had said the cancer was no longer curable, although they were trying to shrink the tumours which they thought might give her a couple of years.
"On the day Lorraine died she hadn't eaten for two weeks and couldn't drink. I laid beside her and she was gripping my hand quite tight. We were like that for about half an hour.
"I could feel against my chest that her heart was slowing down. She just slipped away after that. It was very peaceful."
He added: "When Liam is old enough, I won't tell him that Lorraine gave her life for him but I will say she made sure he had a good chance of life. She told me she didn't want him to feel bad about it."
Mrs Allard's father, Tom Berry, said: "I was overwhelmed by the way Lorraine took it. She lived for her husband and children. She was a big personality with a heart of gold."
Dozens of friends and family will say a final emotional goodbye to Lorraine at her funeral on February 4th in the same Hopton church where she married Martyn, her partner since she was 16.
This article appeared in the Daily Mail UK and can be requested from the archives